Landlord's Guide to Replacing Carpet & Flooring
Carpet Fibers
Best Choice for Apartments and Rentals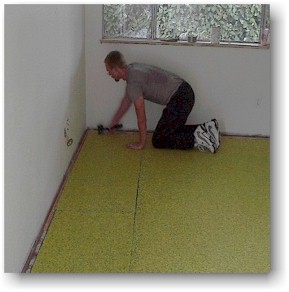 In this section we will be discussing carpet fiber options for landlords and property managers. This is the most important aspect in selecting the right carpet for rental units. There are several choices to consider and the type of tenant you cater to will likely determine your best choice.
The key factor here is not having to replace the carpet in your units as frequently. The only way to slow down the replacement rate is to install a carpet that cleans easy, resists stains, resists matting and can tolerate heavy foot traffic. Is that even possible? If you analyze your situation carefully you may find a solution that works for you.
NYLON
Nylon is by far the best wearing fiber available. You may choose another fiber for various good reasons, but all in all nylon is the best choice when it comes to durability and longevity. Nylon is a synthetic fiber and outperforms all other fibers. It wears well, resists abrasion and is easy to clean. It comes in all styles and colors. This is the best wearing, most durable fiber available today.
Most durable

Lasts the longest

Easy to clean

Most costly
If you have tenants that typically stay longer than 3 years and don't have pets, then choosing a nylon carpet would be a good choice. Carpet made from Polyester or PET fibers don't last nearly as long and need replacing more often than a nylon carpet. Polyester mats down fast and once it does it cannot be reversed. Polyester may clean or resist stains better but if it looks ugly and matted, being clean may not be the most important issue.
OLEFIN (Polypropylene)
Olefin is a strong good-looking synthetic fiber that is inexpensive to manufacture. Some carpets that are made of olefin are Berbers or commercial carpets with small loops. Olefin wears well and has good stain resistance when anti-stain treatment is applied. Olefin has good anti-static properties.
However, Olefin is hard to clean. It has poor resiliency and tends to look dingy when soiled. It is also called polypropylene or polyolefin. Wheelchairs roll easily over glued down commercial level loop carpets and are a good choice for handicapped units and perhaps retirement home applications.
POLYESTER (P.E.T.)
Don't be fooled by the softness of this fiber. This is a very soft synthetic fiber that holds its color well; however it is difficult to keep clean and has very poor resiliency. Traffic areas will usually mat down quickly and may never return to its original appearance.
When new, polyester looks great and feels so soft and wonderful, but it won't be too long before it doesn't.
Sales people often recommend this type of carpet to consumers without sufficient fiber knowledge or experience.
Because polyester is so inexpensive to manufacture and higher profits using this fiber, carpet manufacturers continually try to enhance carpets made with polyester hoping that they can create a carpet that wears well. So far they have had limited success.
Because prices are lower for polyester carpets you may be tempted to buy a carpet made from polyester, just be sure that your expectations are not very high. Generally, I do not recommend buying carpets made from polyester fibers to those who need a carpet that wears well and resists matting and crushing.
Sorona and Smartstrand
Sorona and Smartstrand by Mohawk, also known as PTT or Triexta, has been around for many years now, is it as good a fiber as they claim? Sorona is not a miracle fiber, it has limitations like any other fiber. What I have come to believe at this point is that Sorona is a durable fiber, more durable than Polyester. It also cleans easily and resists stains a little better than a standard denier Anso 6.0 Nylon. This may not be true when compared with the Antron 6,6 Nylon fiber.
You must select a grade or quality that is designed to tolerate your level of foot traffic. This means paying close attention to the specifications. Use my free Carpet Durability Guide Chart to compare.
Durability means having enough face-weight, pile density and adequate tuft-twist to meet or exceed your needs, goals and lifestyle. It is also important to keep the pile height below 3/4 of an inch or risk potential matting and crushing of the pile in medium to heavy traffic areas. (stairs and hallways)

Knowing what grade of carpet to buy is the key and many folks end up buying a carpet that is incapable of tolerating their level of foot traffic. This always ends in frustration and makes for an unhappy customer. This is my take so far and I still firmly believe that Nylon is more durable and has better resiliency than Sorona, but Sorona does seem to resist stains a little better than a nylon to some degree, how much better is debatable.
Learn more: