Landlord's Guide to Replacing Carpet & Flooring
Carpet Questions & Answers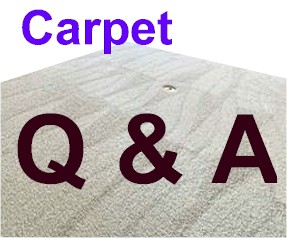 Q. I have a question about Berber carpet. I read your previous response about nylon carpeting being one of the most durable and easiest to clean, but how well will Berber carpets fair with a dog? My parents had Berber carpet, and their dog was constantly snagging it. We have a dog and love Berber, but don't want to buy it if his claws will get stuck in the looping. Is there a carpet that is durable, easy to clean and resists snags?
Reply: Sorry to have to tell you this, but dogs and kids can easily snag all looped Berber carpet styles. I understand your desire for Berber runs deep but I bet you love your dog even more. If you put in a Berber you will surely have snags to deal with. Check out a California Berber style, or a Frieze. They have NO loops, are long lasting, and are dog and kid friendly!
Q. Hi, I was wondering how well does Berber withstand high traffic areas. Is it easy to keep clean and what kind of padding is the best? I am going crazy trying to decide if I want a plush carpet or Berber. I have a newborn and know I will soon have lots of messes to clean.
Reply: Berber can be made of Nylon or Olefin, and of the two, Nylon would be the better choice. Berber is a nice looking carpet, and can be quite reasonably priced. However, It is not the best choice for folks with kids or pets. A good Nylon plush would clean easily, wear better, and retain its new appearance much longer than would a Berber. If you must buy a Berber be sure to select one with small loops, the big loops fall over quickly and look bad sooner. As far as pad goes, a 6 pound, 7/16" Rebond pad for the plush, or an 8 pound 1/4" for the Berber. Remember, Nylon is the most durable fiber.
Q. I just purchased a nylon Berber carpet. However, the loop is much larger than the sample and I have concerns about snags. I like the smaller loop. The larger looks like the yarns has been snagged or pulled. I found you website very helpful, but what happens when the carpet comes in and it does not appear to be the same loop size?
Reply: Thanks for your e-mail and question about carpet. If you have ordered carpet from a carpet retailer and the carpet does not closely match the carpet sample, you have every right to refuse the carpet. You should get exactly what you ordered, so contact the retailer and ask them to look into it. If there is a noticeable difference they should reorder the carpet and there should not be any additional cost to you. With any Berber carpet, a smaller loop size is always preferable to larger loops, as the smaller loops will retain their new appearance longer. Large loops tend to fall over and lose the new appearance quicker.
Q. I am looking for a good quality carpet that can withstand kids, cats, dogs and traffic. I have a somewhat formal living room that you land in upon entering my house. To get to any other part of the house at that point, one needs to walk through that living room. My biggest problem is the traffic marks from the front door, across the living room and down the hallway to the bedrooms. This gets dirty fast.
Any help would be appreciated.
Reply: There is only one type of carpet that can potentially withstand all these things, it is Nylon. A textured plush style will hide the footprints and show dirt the least, depending on the color you select. Select a dense carpet with at least 40 oz face weight, this will better withstand the traffic. A good tuft twist at least seven twists per inch is important to keep your carpet looking new longer. It must have anti stain. You will need to vacuum regularly at least every other day, and have the carpet cleaned when it gets dirty, once or twice a year. You might want to consider laying down a plastic runner in the heavy traffic areas. Stay away from looped styles of carpet like Berber and never buy Polyester carpet (P.E.T.) no matter what they tell you. Go to my special information website for more good ideas about shopping for carpet.
Q. I have read that the new PET fiber is even more stain resistant than nylon. Your web site indicated PET is the worst. Can you refer me to any other authorities?
Reply: Whether or not it is more stain resistant than Nylon is not the issue, it is that P.E.T Polyester carpets mat down quickly and have poor resiliency. That means that Polyester carpet will not retain a new appearance very long. Clean it all you like, it will still be matted down. Nylon has excellent resiliency and will look new longer and it cleans well too.
Q. I want to replace my family room carpet with a different color, but not the bedroom. What do you do where the two carpets meet?

Reply: A carpet layer would seam the two carpets together at the doorway between the two rooms. Even if the two carpet colors are very different it doesn't usually look bad, it is very common to have different colors of carpet throughout the house.

Q. I am thinking of purchasing a Mohawk carpet, the heavier weight one that is made out of the recycled plastics. I have been told that this is easy to clean, but I thought that nylon was the easiest to spot clean? I have an older dog that does have urine accidents and this is what I am faced with. I plan on putting down a moisture barrier pad, that I think will help w/the cleaning. What is the best type of carpet you recommend for this situation?
Reply: The recycled plastic carpet you mentioned is made of polyester the worst fiber to make carpet from. Please don't buy polyester, you will not be happy with it. You need to buy nylon, with stain resisting treatment applied. Don't spend a lot on the carpets where your dog will be mostly, because if your dog does his duty often your carpet will not survive very long. Although nylon cleans the best, dog urine never completely comes out. Don't spend a lot on special pad, whether urine is on it or in it won't make that much of a difference. You are better off sealing your floors underneath so the urine doesn't soak into the wood or concrete. Trust me, I am a firsthand expert on pet urine. If you need more info on this procedure let me know.
Q. Do you have a recommendation as to your #1 choice for Berber carpet (bedroom 12'x24') At this time there are no children in the house
and only one dog that will have limited access to the master bedroom. So plush is more important than stain resistance at this time!
Reply: Thanks for your question. Berbers are more expensive to install than other types of carpet. Expect to pay at least one or two dollars more than the standard installation charge. I do not have a preference for any one Berber, but I do have certain types that I stay away from.

Inexpensive Berbers are not made well. These are Berbers that sell for $10 and less per yard, not including pad or installation. The backing is often caked with excessive latex and they use alot of ammonia in the manufacturing process. If this type of carpet is over-wetted (like by a carpet steam cleaner) they can easily stretch out and cause wrinkles. ( I've seen it happen hundreds of times.)

Berbers with large loops. When these large loops get stepped on they fall over. They will never stand up again and the Berber quickly looks matted down and dingy.

Most Berbers are made of olefin and do not clean easily. There are some Berbers made from Nylon and that would be my choice. Berbers can snag easily especially from kids and pets. Repairing is usually difficult and expensive. Be sure to choose one with small loops if you want it to look new longer. Save carpet leftovers for repairs that may be necessary later.
Q. Is there a difference in the materials that carpet is made of? Like some are 100% polyester and some 100% nylon? Does it all wear the same, is one better than the other?
Reply: Yes there is a big difference in fibers. Go to this special page on my website to read about it. Article
Q. We just began shopping for new carpet for our den and hallways. We have 4 kids, 2 2 and under and the salesman tried to sell us wool. is nylon better for a high traffic area for a large family?
Reply: Any salesperson trying to sell you wool carpet when you have young children is not looking out for your best interests. Wool makes a good carpet but it doesn't clean easily and doesn't tolerate a lot of abrasion. Nylon sounds like a better option for you. And it will be less expensive too! Also important: Do not buy polyester carpet.
Q. Hi I just read through your website, it was awesome!!! I was a victim of a scam, no interest one, I got smart from talking with other people that had gotten carpet and found out I was grossly overcharged. Thank god I cancelled and am now waiting for my two estimates from other local dealers. Thank you again.
Reply: Thanks for your kind words about my website, I am glad you have escaped the carpet scoundrels!
Q. Thanks for the information, I'm looking at carpeting for my family room. I'm the only one to use the room, no pets or kids, so although durability is important, cost and appearance is also very important. I am thinking of Berber for this room. Your web site has been helpful.
Reply: Berber would be a good choice. You would be wise to select a Berber with smaller loops, not large loops. Large loops tend to fall over and collapse. Berber will cost a little extra to install, usually a dollar or two more per yard than other types of carpeting. Berber needs a thin and a more dense padding. Be sure to use a 1/4" inch, 8-pound padding, unless the manufacturer recommends otherwise.
Q. Carpet in my house is Nylon BCF tufted textured Saxony that was damaged by water flooding. My insurance will pay for a replacement of my damaged carpet. I would like to replace my carpet with identical quality carpet. Please tell my what type or brand of carpet I would like to buy. I would like also to ask you if I can still use the carpet that was wet or under water for over 48 hrs that was dried out. I am telling my insurance adjuster that I don't want to use it because it was wet for over 48 hrs and it was not disinfected. I am afraid that it will cause us problem in the future if we have to use it because of bacterial, fungi and mold growths. Please help.
Reply: Carpet is not designed to withstand a thorough soaking from water. The construction of your carpet has been compromised and it should not be reused. Choosing a similar carpet would be a good choice, Nylon is the best fiber and a BCF (bulked continuous filament) textured Saxony is a good way to go. You could go any number of ways in selecting a different carpet, but all in all Nylon is the right fiber to choose. I like Mohawk products. Be sure to replace the pad with a quality pad, and if your flooring has been exposed to raw sewage (toilet or drainage sources) be sure to use a disinfectant on all exposed floors prior to reinstalling your new carpet.
Q. Which carpet company makes the best carpet?
Reply: There are hundreds of carpet manufacturers. I cannot answer that question. I will say that you have to be careful who your buy carpet from, and you need to be sure that you have recourse if you should have any problems before or after the sale. Get a copy of my book and save yourself some time, money and headaches.
Q. What's your take on carpets made from a fiber called Chromolon?
Reply: I have spent several hours researching the answer to your question and there is not much to report. Here's what I've discovered: Chromolon is a trademarked word used to describe a fiber that I am not able to define or describe. I suspect that it is a polyester fiber because they claim that it holds its color well and is resistant to fading. That is a quality that polyester is well known for. They also claim that it is a good value, which is a statement that tells me that it may be a low-end product. The warranty they offer is not very good, and making a warranty claim has many limitations:

*CHROMOLON™ features 5-year stain resistance, 5-year appearance retention and 10-year resistance to abrasive wear warranties. This is a product available from Canadian Sources. The company that distributes Chromolon is Gesco Industries of Canada. They claim to be Canada's largest flooring distributor / manufacturer. Every website that I could find that listed Chromolon is owned by Gesco Industries. There is not anything on their websites to indicate what this Chromolon fiber is made of. I think it is Polyester.

I personally would not buy a carpet that I could not define what fiber it is made of. It has to be made of a known fiber and they obviously don't want us to know what fiber it is. If it is Polyester, and I bet it is, I would not buy it. I believe that polyester is the worst fiber to make carpet with, but because it is so inexpensive to manufacture the carpet mills try hard to persuade consumers to buy it. It may be a great fiber or it may not be. My advice: Don't take any chances, you have a lot to lose financially. Buy a Nylon carpet and you will be happier in the long run.
Q. I chose a 65 oz. Mohawk Berber for my L-shaped family room and dining room. The family room is 15 X 15 with a two foot fireplace hearth on one end. The open adjacent dining room is 10 x 11. I had Home Depot send their installer out to measure (paid $30.00 for this service which is to applied to the cost of the carpet/installation). At the time of measuring, the measurer told me the square footage was approx. 300 feet with 10% +/- allowance for cutting. That to my math, would be no more than 330 feet. This equates to approx. 37 sq. yards, right? Why did the installer then submit a quote to the store to order 50.4 yards of carpet? He didn't sound very happy about the questions I asked after he measured. I am entitled to this information am I not?
I have put the order on hold until I get another reputable company and installer out for a second opinion. I talked to a guy in construction last night and he told me this is a common practice in the retail carpet industry. The installer pockets the extra amount on installation and doesn't buy the additional carpet at all. Plus, according to your website, although Berber is about a $1.00 more per yard to install, they are charging .55 per foot to install. Isn't that close to $5.00 per yard, more costly than other companies in the south are charging? I do not want to get ripped off and this had made me very angry.
Oh, another thing, they refused to give me the names and numbers of others who have had carpet installed through this (home improvement warehouse). Said it was against company policy. They also refused to give me a copy of the measurements. Said I could look at them in the store, but not get a copy. Also, my SKU number on the original quote is different from the SKU on the installers' quote. They said it was the same thing but this is confusing at best. I would appreciate your insight and assistance if you have the time. Thanking you in advance.
Reply: Thanks for your question. I believe that it would be a good idea for you to buy from another dealer. I come up with at most 41.33 yards of carpet using your measurements and using 12-foot wide goods, and 43.33 using 15-foot wide goods. I know some installers that have worked for (home improvement warehouse) and have had personal experience with them too. I would not recommend them to anyone. Seek out a locally-owned carpet store and you will enjoy the way they treat you and the fair deal they will provide. Also, be sure to get at least 3 bids.
Q. Thank you for the useful info! We just purchased a 15-year old home. Now it's one thing after the other. Most recently, the basement (walkout) had a bad patio door, which allowed moisture into the carpeted room. We're replacing the carpet with a Berber. The pad used was "felt"? It most likely is throughout the other rooms in the basement. My question: The carpet seems okay in the other bedrooms, but feels cool/moist underfoot. It's on cement. It is feasible to have the installers replace just the padding in the other rooms? Doesn't seem to have mildew in the carpets there. What's your opinion?
Reply: Yes you can just replace the padding if you want to, but if your concrete becomes damp again it will cause the problem to reappear. Most basements are cool and the carpet may feel damp or moist but may not be. You could buy or rent a moisture meter to check for dampness and make your decision after knowing for sure. If your basement is damp you might want to have the concrete sealed by a professional concrete sealing company. They guarantee their work and your moisture worries will be over. It is not cheap but it is cheaper than inhaling mold and mildew spores and replacing your pad or carpeting often.

P.S. Berber would not do well over damp concrete, (if it is damp) it would most likely become un-stretched in a short time ( 6-12 mos.) and need to be re-stretched. If you do use Berber be sure the installer uses a power stretcher to install it.
Follow-up question:
I have another thought. I had my carpets cleaned in mid July by Stanley Steamer. I'm wondering if the guys who came didn't properly get all the water out? I have a "felt" pad under all the carpet...maybe I got a poor job? When I get down on my knees and smell the carpet (particularly at the end of the hallway into a bedroom) it's a funny smell. Not the mold smell. But I think it's a mildew starting. Now what? HELP! I don't want a carpet salesman trying to sell me all new carpet and pad if I don't truly have to go that route. The carpet in the bedrooms is like knew.
Reply: Yes, the carpet cleaners probably over-soaked your carpet. It probably did not dry fast enough and is starting to mildew. AHHHH! Replace the pad quickly before it gets too stinky. Only use Chem-dry in the future, not a hot-water steamer. Its your only chance to get out of this mess and salvage your carpet. Get some dehumidifiers going if you can and run them until the new pad is in, if you can.
Q. Thank you for E-mail and I appreciated your prompt response. My former carpet is Nylon BCF and you recommended Nylon and Mohawk. I have selected one Nylon BCF and the brand is Steven. Would like to hear what you think of this carpet. Thank you so much...
Reply: There are hundreds of brand names for carpets but the fibers are all basically manufactured by either DuPont or Allied. Even though the carpet says "Stevens" it could be made by any of a number of carpet mills. I personally do not know anything about that brand, but the Nylon with the letters BCF means it is made with a continuous nylon filament fiber that has been "bulked" that means Fluffed-up or made thicker. BCF means Bulked Continuous Filament. If it is a style you like, and the price is comparable with others like it at other stores, then go for it! Be sure to get at least two measurements of your home and be sure you don't get over-measured. Carpet salespeople are not always completely honest when it comes to measuring. Ask for a diagram showing where the seams will go too. Finding the right carpet is only the first stage of a three-part battle. Measuring and installation are the next two events that must be done right in order for you to be successful.
Q. I'm having a hell of a time keeping a 6 x 8' area rug from rippling. Just walking on it and it starts to ripple. I just had the carpets cleaned and the cleaner said to put 4 pieces, 1 each of 6'' x 6'' of linoleum tiles glued at the corners (underneath of course) and my problem will cease. It doesn't work. I paid quite a bit for the carpet and I don't want to roll it up and store it in the closet. What can I do? If it means anything, on one of the corners only, the front 2 legs of a chair sit on the carpet.
Reply: I am not an expert regarding area rugs, but my grandmother was! She had area rugs everywhere and she knew how to keep them in place. She used three-inch steel needles to fasten down the edges. They were in the shape of a T and were stuck through the area rug and into the carpet and padding below. You could find them at a larger arts and crafts store. If you are on hardwood floors, use double-faced tape to fix them down. Hope it works for you!
Q. I am pulling the old carpet out of my basement apartment, and am going to be putting ceramic tile in most of it, and new carpet in the bedroom. This is a 20-year old building. It doesn't leak at all, but it has a damp feeling, as many basement apartments do. I'm worried about the risks of mold with this dampness. Should I have it waterproofed? If so, under the carpet only, or under all the tile as well. What does this entail? Is it only the floor that receives the waterproofing treatment? Is there a product that the man laying my tile could use to do it himself, or do I need to get a special person to do this? If so, could you point me in a direction to find a person to do this for me in the Boston Area? Thank you so much for any advice you can give!
Reply: Mold is a valid concern, and if you feel there is dampness, you should have the floors sealed. It's probably only necessary under the carpet, as ceramic tile is not a porous substance. Carpet is porous and mold can become airborne by vacuuming or even walking on it. You can call a waterproofing company or a handyman to do the job for you. There are several products available such as Thompson's' Waterseal. Any home improvement store will carry these products. Mold and mildew form easily when there is dampness and a lack of air circulation, so it would help if you installed a ceiling fan and used it in the winter time to help distribute your heat evenly and eliminate stagnant air. Also use your bathroom ventilation fan often and especially after showers and baths. (Assuming you have one).
Q. What's up, some sales people recommend nylon, others PET polyester? What do you recommend?
Reply: If you want your carpet to last, buy nylon. Polyester will mat down in 6 months and look bad. The reason salespeople recommend polyester is that the profit margins are higher because polyester is so cheap to make.
Q. After reading your questions and answers, I am very confused. I was going to purchase 100% revive PET polyester carpet, 91 oz, with a twist of 4.1 and density of 4765 from (home improvement warehouse) for a great price. I thought this carpet would be great, but according to you I should stay away from polyester at all cost. I have carpet right now that is matted and I hate that. Please advise.
Reply: Carpet manufacturers have been trying to make a good carpet using polyester for 50 years. It matted down then, and it will mat down now. Polyester is cheap to manufacture and they make huge profits from it. Polyester fibers are not resilient. Once they become crushed from being walked upon, the fibers never go back to looking like they did when it was new. Even after being cleaned the fibers will lay down flat.
Here is an example, take an empty 2 liter plastic pop bottle (it's polyester) and step on it to make it flat. Now try to unflatten it. You can't. Once flattened the plastic bottle will stay that way forever. The same goes for anything made of polyester. Tie a knot in a polyester rope and leave it for one hour. Then untie the knot. What happens? You cannot straighten out the rope, the curl from the knot will always be apparent. The same happens to polyester carpet fibers. Once flattened always flattened.

The carpet mills now are putting the polyester fibers so close together and packed in so tightly that it makes it more difficult to crush the pile. Even so, your hallways, your stairs, and any other traffic areas will mat down and crush in a relatively short time. I only recommend using polyester in low traffic areas, like in a home owned by an elderly couple. Never on stairs, never where there are kids or pets, and never if you can afford to buy Nylon instead. Nylon is more expensive to buy, but it lasts and lasts, it is very resilient, easy to clean and will look like new again after you clean it.
Q. Can you recommend a good nylon carpet sold by Home Depot? We have two boys in college, one dog and three cats. I would like to stay in the price range of about $25.00 per square yard. Any help you can give me would be appreciated.

Reply: I would not recommend that my friends buy carpet at a home improvement warehouse, I would rather they bought from a local family owned carpet store. These home improvement warehouses place private labels on the samples making it nearly impossible to compare prices. The service before and after the sale is provided by people who are new to the business and have very limited flooring knowledge. The training they receive is from the company and the carpet manufacturer who are in business for one reason only, to make money.

A local carpet retailer must be competitive and has a great knowledge base for helping you before and after the sale. The word of mouth reputation is their key to success so they have a vested interest in your satisfaction. Ask your neighbors whom they would recommend. Look in the yellow pages for names like "Wilson's Floorcovering". I believe that you'll be happier in the long run.
Q. Will a thicker pad help prevent cold floors in a finished basement with concrete flooring? What do you suggest?
Reply: Yes, a padding can help make your floors feel less cold, as long as you choose the right padding. There is a big difference between thicker padding and a pad that is more dense. Padding is rated two ways, thickness and density. Most padding is 1/4 inch to 1/2 inches thick, while 5/8" to 9/16" pad is available it would cause most carpets to stretch out and develop wrinkles quickly.
Padding is also rated by density, and is usually rated by the weight (in pounds) of a cubic foot. 3 pound pad is not very good, 6 pound padding is considered standard for most homes, and in your basement I would put an 8 pound padding. It would help keep the floors from feeling so cold. As for thickness, it all depends on the type of carpet you select. Berbers require a thinner pad, 1/4 inch to 3/8 inch. Plushes can have as much as 7/16 to 1/2 inches thick. Some manufacturers don't recommend using 1/2 inch for fear that the carpet will develop wrinkles, but I disagree, and in your case, if you are not using a Berber, I would use a 1/2 inch pad.

Now what type of pad should you use? Well, the most economical would be a Rebond, also called bonded pad. it is a multicolored recycled padding and the best value for you. If you are made of money, go for a solid rubber padding, not a waffle pad, but a flat dense rubber padding. That's it! Hope this has helped you. Good luck!
Q. What can you tell me about Beaulieu carpeting? The label specified Anso Nylon and DuPont stain master. Specifically I was interested in the Forrest Hills line with a face weight of 54 oz. Thanks.
Reply: A good choice! Beaulieu carpeting is as good as any hope to be, and Nylon is the best fiber. 54 ounces is plenty and your carpet will last for many years if cared for properly. You need to be sure an expert installer, who uses a power stretcher to install it, and be sure to buy at least a 6-pound padding.
Q. Help! I am dazed and confused. I have never purchased carpet before! I am on info overload. I want to use a Beaulieu carpet (PET) with face wt of 91oz. One expert told me that is too thick and I should go for 40 oz face weight. I thought more weight was better! What about this PET? Is nylon a better choice? I want the look to be new for as long as possible, and will probably not put down another carpet for 15 or more years! I was going to use Berber in the family room, but have since been scared away by using Olefin (I cannot not afford wool)...so I am considering putting the PET through my entire house. The twist in the yard is 4.1, and the style is Command Performance by Beaulieu. What do you think? Is there something that you can advise me that will wear better and hold up longer?
Reply: P.E.T. is the same as Polyester. I believe that Polyester is the worst fiber to make carpet from. It mats down easily and will not look like new for very long, no matter how thick it is. I would never buy a polyester carpet. Nylon is your ticket. 40 to 60 ounces will do nicely. Anymore, most if not all, are treated with anti-stain and anti-static treatments.

Since you have limited experience with buying carpet, there are just too many ways for you to be taken advantage of. You really need to read my book. It will give you all the information you need to keep from becoming a victim of the carpet scoundrels and guide you through the whole process.
Q. We are considering buying a new type of carpet made from a DuPont Tactesse Nylon fiber. We're concerned that this softer fiber will not wear as well. It is for a high traffic (4 kids) family room. Would is your recommendation?
Reply: In my opinion, the DuPont Tactesse fiber is too new for me to rate, and you have a lot to lose if it doesn't hold up their great claims. I would still recommend a Nylon fiber, but would not choose the Tactesse Nylon fiber without actually knowing how it will stand in the test of time. I would bet that it doesn't hold up quite as well as a regular DuPont Nylon carpet. If it did, they would say that does, and they don't. Still, kids and pets can ruin any carpet if allowed to.

Selecting your carpet is not the hard part, its getting a good deal, the correct padding, measured accurately, and ultimately installed properly that will determine how long your carpet will last. In my book Carpet Buying Secrets Revealed you will find all the info you need to avoid being overcharged and get the whole job done right from start to finish.
Q. I purchased carpet about 10 years ago and for the past few months I have noticed an unpleasant smell. I went though my room from top to bottom looking for something that might have made my room smell bad, and the only thing I can figure out is that the smell is coming from the carpet. Could you tell me if it is possible that carpet can get mold underneath, or maybe dampness could make carpet smell. Do you have any ideas of solutions? Help!
Reply: If there is a source of water seeping under your rug, mold and mildew can grow. If you have cleaned your carpets recently that could also be the cause, if there was too much water used or not allowed to dry sufficiently. Mold and mildew can cause sickness in humans and you need to determine if there is mold or mildew forming under your carpet. Concrete floors can sometimes allow water to seep in if there has been a lot of rain.
Your next step is to pull up the carpet from the corner of the room and see if you find the source of the smell. As a friend or neighbor to help you, as they will have a better chance of locating the odor, as you may be a bit used to it. If your carpet is the source, you will have to first eliminate the source of water and then replace your carpet and padding. Let me know what you find.
Learn more:
Carpet Fibers - Best Choice for Apartments, Rentals
Apartment Maintenance Training
What You Should Expect From Carpet Installers